'My Husband, the Covert Cat Lover'
Thank you for the article "My Soft Spot for Cats" ["Over the Prickett Fence," In&Out Magazine, May 10]. Since my husband had neither a cat nor a dog during his childhood, it was difficult to get him to appreciate how wonderful they can be.
During all of our years in California and a few years before, the family always had one or two cats. He agreed to having them mostly because they could be left alone during the working hours and be ready for lots of playtime when we were all home. He was always kind to the animals, never really getting to know them—their personalities, their habits, and their love of family.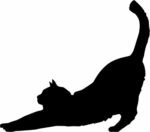 It wasn't until about a year after we moved to Arizona with the last of our two cats, Max and Mousey (named by our grandchildren), that Mousey was diagnosed with cancer and passed away with Max and I sitting close to her.
When my husband found out the next morning, he actually cried and said he loved her almost from the day I brought her home and loved when she would sleep next to him on the sofa during his naps after a hard day playing golf. Guess I was too busy to notice.
I still have Max. He's about 14 now, and we have since adopted Kobe (formerly known as Moe, brother to Larry and Curly) and a special-needs kitty, Chloe. And I adopted a puppy that is now 80 pounds, named after my husband's favorite nickname for his golf buddies—–Buddy.
Unfortunately, Buddy and Chloe never got a chance to meet my husband, as he passed away in early 2016. But I know he would have loved them too, even if I never heard him say so.
I look forward to the In&Out just to read your thoughts about everything. Keep up the good work!
—Nina Perry, Anthem