Anthem Likely to Annex Landlocked Developable Property
For 15 years, In&Out Magazine has been the definitive source of "Everything that's going on" in and out of the community. We thank you, our readers, as well as the businesses that support the magazine through advertising, for that opportunity. But with little going on, and many businesses suspending or canceling their ads during the Covid-19 crisis, we are suspending publication of the magazine and web sites for the month of May. 
---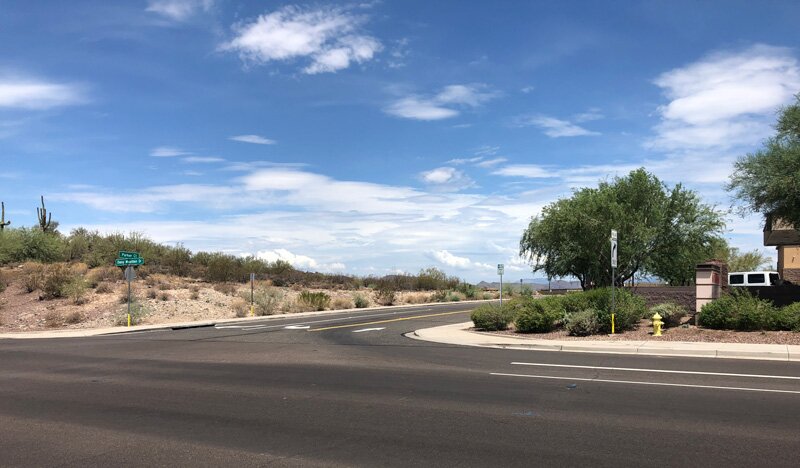 Anthem is working with a private landowner to bring a 52-acre parcel of open desert under Anthem governance. The property is wedged between I-17 and the east side of Anthem, with no existing access road. 
Annexation would allow Anthem Community Council, an unincorporated entity, significant control over what is developed there and how it is designed. The property lies in Maricopa County—not in the City of Phoenix. It is zoned residential and held privately by an entity called 1991 Phoenix Trust, which is controlled by unnamed owners who bought the parcel in about 1991.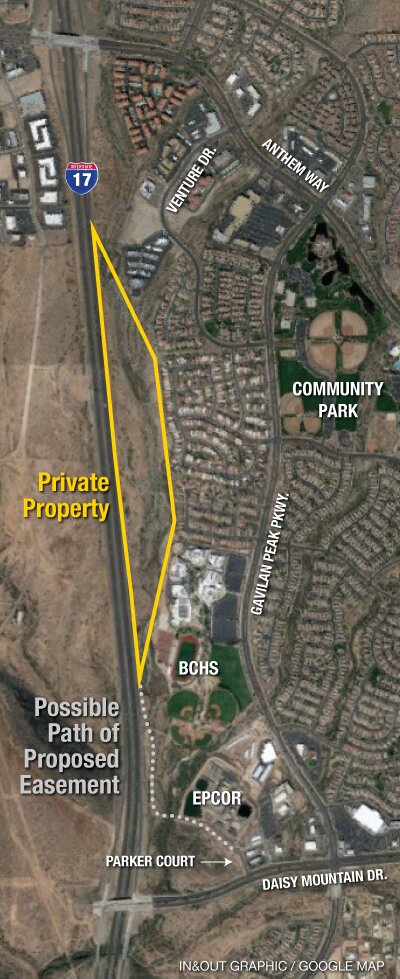 According to Wes Wagner, a representative for the trust, the owners had a working relationship with Del Webb before Anthem was developed, along with an understanding that a right-of-way would be granted. That was news to the current Anthem Community Council when Wagner approached the ACC in 2017 seeking the easement. [See "Landlocked," In&Out, July 19, 2018.]
Since then, ACC staff and attorneys have reviewed the historical documents and worked with Wagner to develop a letter of understanding, in which the property would be annexed into Anthem and subject to all of the community's planning and building guidelines, oversight and assessments.
Better Than…
The unexpected outcome, should it be finalized, is better than the alternative, ACC President Terry Mullarkey explained at the June 26 monthly council meeting. The trust did not have to approach Anthem, but could have instead sought to litigate for the right-of-way.
"The courts would have likely sided with the trust, and they would have given them access because there have been precedents where that has occurred in the past," Mullarkey said, adding that the trust could then build anything allowable under Maricopa County guidelines.
Anthem's guidelines limit homes to two stories and commercial buildings to three, and the agreement with Wagner's trust would forbid things such as pawn shops, mobile home parks, outdoor storage facilities or adult entertainment establishments.
"It really is the front door to Anthem," Mullarkey said. "We want to ensure what gets built there and how it looks."
When Pulte's Circle Mountain property near the Post Office was annexed by Anthem in 2015, Pulte, which now owns Del Webb, relinquished control over any future annexations to ACC, according to Anthem CEO Neal Shearer. [See "Annexation Approved by Council," In&Out, Sept. 24, 2015.]
Under the proposed agreement, the right-of-way would be accessed via Parker Court adjacent to the Daisy Mountain Drive Circle K. Anthem would retain rights to use the easement to access its own vacant land that borders the trust land on both the south and north ends. The northern tract, which holds potential for some future ACC use—though none is planned—otherwise currently has no access.
The annexation is not subject to laws governing annexation done by incorporated cities. [See page 21.]
No Firm Plans
There are no plans as to what might be built on the land, but Wagner said preliminary possibilities include apartments, a senior living center, a recreation center and/or a commercial area to possibly include offices and/or restaurants. He also suggested an 8-acre open-space buffer could be left between the development and the single-family homes north of Boulder Creek High School. About a quarter of the site, once a rest stop on I-17, is undevelopable natural wash.
There's no guarantee any development would happen. And actual plans—likely two or more years away—would be subject to future market conditions, community input and full ACC oversight plus  regulatory approvals from the county, Army Corps, FEMA and others.
"We want to do something that will make us money," Wagner said, but the trust also aims "to add value and improve the image of Anthem."
After hearing the proposal, no Anthem residents at the meeting opposed the approach, and no ACC directors spoke in opposition. It is expected to be voted on by ACC no sooner than its July 24 meeting.
Related