Private Property Owner Seeks Access to 55-Acre Site Landlocked by Anthem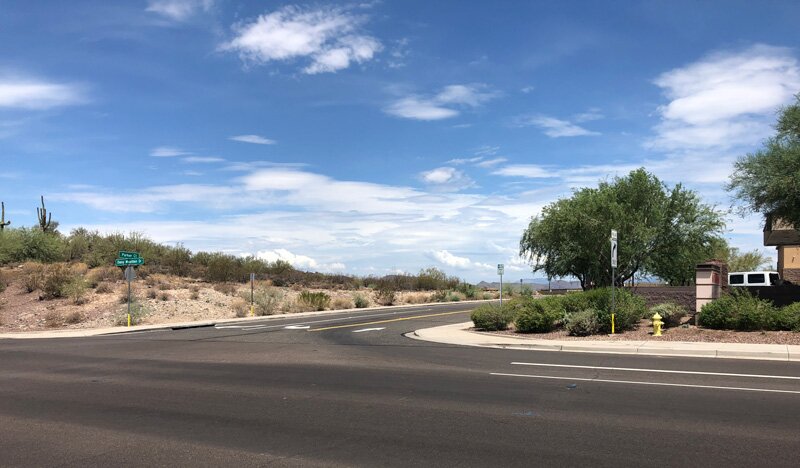 UPDATE JUNE 24, 2019: Anthem Considers Annexing the Property
The story below remains as originally published…
In what may be a surprise to many residents, a 55-acre sliver of private property sits just east of I-17, south of Anthem Way down to Boulder Creek High School [map below]. A few months ago, the owner of the landlocked property approached Anthem Community Council about securing a right-of-way to access the property from Parker Court, near the Daisy Mountain Drive Circle K.
The property is zoned residential and held in a trust, controlled by unnamed owners who have lived in Arizona for more than 70 years and bought the parcel in about 1991, according to the trustee, Wes Wagner.
Any potential development would be "a long ways" out, Wagner told In&Out. "It would probably be some type of mix of residential and commercial, but that has yet to be determined," he said.
For comparison, Anthem Community Park—including the fishing ponds, playground and all the ball fields—is 63 acres. But a non-buildable wash runs through part of the private land.
The property was once part of an I-17 rest stop. Over time, changes to the freeway and various easements left the acreage isolated, Wagner explained. He hopes an easement can be worked out as part of a mutually beneficial relationship.
"We want to be good neighbors," he said. "We want to provide something that will be an enhancement to the community."
ACC entered discussions because the property is "on Anthem's doorstep," said Community Executive Officer Neal Shearer.
"Property rights would certainly favor somebody who owns that land having a potential right to develop it," Shearer said. "It's in Anthem's best interest to at least have conversations with the landowners to see if there is some mutually beneficial outcome."
The discussions were revealed at the June 27 ACC meeting. No decisions would be made without community input, Shearer said. Discuss this article on Facebook >>>
Discuss this article on Facebook >>>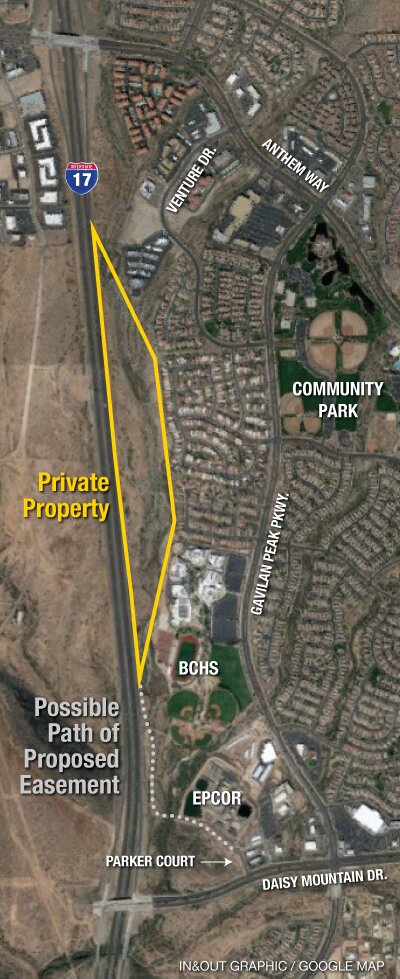 Don't Miss Important News!
Subscribe now to the Anthem Newsletter
or the North Phoenix Newsletter.