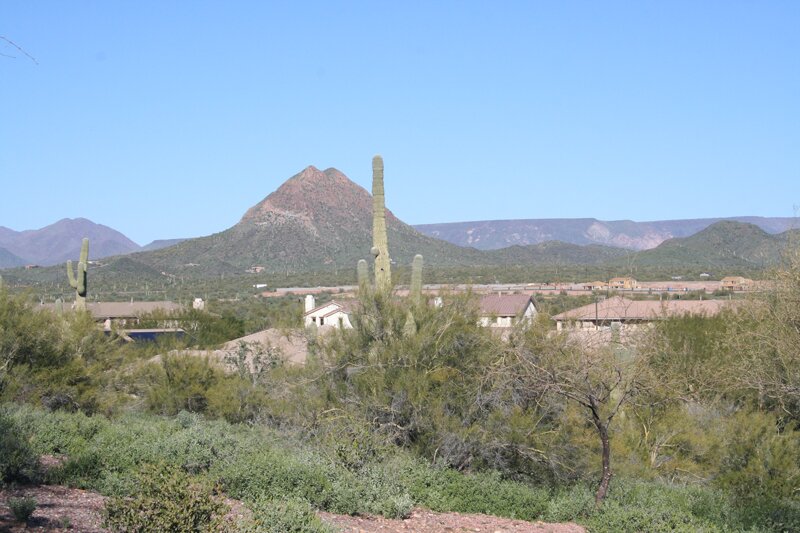 It may be cliché, but it's as true today as it was when it was first uttered 10,000 years ago by Ug Boulderstone, of Paleolithic Properties: "location, location, location!" And the best addresses nearly always have the best views, be they from caves our cavernous patios. Golf course lot, mountain vistas, waterfront and city lights are the terms that sell.
In today's Google world, among the first things savvy homebuyers do is pull up a satellite view. Properties backing to busy streets, power lines, or commercial spaces often sell at a discount or worse, don't sell at all. Interior lots are desirable to some buyers, but they just don't compare to postcard sunsets.
What's in a view? Different things to different people. City light can be an enchanting backdrop for an evening backyard party. Views of the 16th fairway offer the beauty of lush, green manicured landscaping, without the maintenance hassle. Mountain and desert views provide brilliant morning and evening murals and the chance to observe wildlife, all while safely simmering in your jetted spa.
I'm a hermit. When I come home from a long day at work, my yard is my refuge. I'm totally done with talking for the day, and turning around and heading out for dinner or a party is usually the last thing on my mind. Heck, I don't even feel like wearing clothes! (TMI?) Watching the sunset and listening to the birds and bugs is about all the excitement I care to deal with. My view is my sanctuary.
If you don't have a view, or a limited one, choices in landscaping can help to create the illusion of one. Shrubs and trees can add privacy, a raised patio can maximize a partially obstructed view, colorful flowers and a soothing water feature will help give you your own personal piece (peace?) of zen. Back in the day, Ug even recommended a rock garden!
---
Get Chris in your inbox. Subscribe to the North Phoenix Newsletter or the Anthem Newsletter
---
---
East-Facing, Elevated Lot with Sweeping Views
ADVERTISEMENT
Watch shadows dance on mountains near + far as the sun sets, and city lights flicker all the way to Scottsdale.
4 BEDS | 3 BATHS | 3-CAR GARAGE | 2,793 SQFT | $445,000
41521 N Laurel Valley Way, Anthem Country Club
Call or CLICK TO LEARN MORE