One Last Flash Flood Warning … Then … Sunshine?
For 15 years, In&Out Magazine has been the definitive source of "Everything that's going on" in and out of the community. We thank you, our readers, as well as the businesses that support the magazine through advertising, for that opportunity. But with little going on, and many businesses suspending or canceling their ads during the Covid-19 crisis, we are suspending publication of the magazine and web sites for the month of May. 
---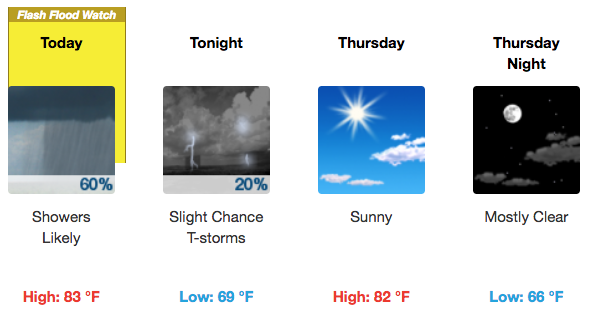 We've got a few more hours of Rosa's rains, then … what's that? … sunshine tomorrow? And you can say goodbye to triple digits. But first, one more Flash Flood Warning was issued by the National Weather Service this morning. The additional rain will come atop storm totals that as of 8:04 a.m. today run from 2.99 inches in a gauge near Anthem to 3.35 inches in New River and 2.05 inches in Tramonto. Just 1.65 inches has fallen in one part of Norterra, and 1.77 inches at Deer Valley Airport.
We'll post rainfall totals for North Phoenix later today, when it looks like we're done with the precipitation. Meanwhile, see yesterday's story for images and videos of the storm.
And here's the forecast from the National Weather Service:
TODAY: Showers likely and possibly a thunderstorm before 11am, then a chance of showers and thunderstorms after 11am. Mostly cloudy, with a high near 83. South wind around 5 mph. Chance of precipitation is 60%. New rainfall amounts between a quarter and half of an inch possible.
TONIGHT: A 20 percent chance of showers and thunderstorms. Partly cloudy, with a low around 69. South wind around 5 mph.
TOMORROW: Sunny, with a high near 82. Southeast wind 5 to 10 mph becoming southwest in the afternoon.