#RedForEd FAQ: What Arizona Teachers Really Want & Why
UPDATE THURSDAY, MAY 4, 11:59 A.M.: The FAQ below explains the facts, views and events that led to where we are today. Some of the information, even if outdated, remains intact to preserve the narrative as events unfolded. First, the most recent events and article links:
DVUSD Schools to Reopen Friday, May 4
Following the passage of an education funding bill early this morning and a mid-day announcement by #RedForEd leaders that teachers would return to class Friday, DVUSD announced it would reopen. Questions remain, however, about makeup days.
Governor Signs Education Funding Bill
The legislation increases teacher salaries and other education funding. Its passage comes on the sixth day of a statewide walkout and the fifth day of missed school at Deer Valley Unified School District, leaving parents concerned about how makeup days will be handled.
Previously: After announcing Tuesday evening that schools will reopen Thursday, May 3, DVUSD reversed the decision and on Wednesday evening said school will not reopen Thursday. Leaders of the #RedForEd movement had said they did not get all the increased funding they sought, but that it was time to go back to the classroom, call this round of the effort over, and regroup—if and when the legislature passed the budget.
This latest twist could push the end of the school year beyond Memorial Day Weekend. Administrators hope for a Friday opening but have not made that decision yet.
Previously: Public school employees across Arizona voted to walk out over pay for teachers and support staff and funding for education in general. The walkout included a march to the state capital Thursday, April 26. Deer Valley Unified School District closed all schools on April 26 (three local charter schools aimed to remain open). Late Friday, April 27, #RedForEd leaders dismissed a fresh statement from Gov. Doug Ducey that said he planned to find more funds. On Tuesday, May 1, DVUSD said about half their teachers were ready to come back to work, as the district made plans for makeup days [that survey was later determined by DVUSD to be invalid, as a parent shared a link to it on social media].
Below, the FAQ …
A common misconception about the statewide #RedForEd movement is that it's just about teacher pay. In fact, state educators are demanding higher pay for both teachers and support staff—from college counselors to speech therapists—plus reinstatement of funding cuts dating back to 2008 that research shows have left Arizona schools short on educators, and classrooms lacking basic supplies and equipment. In this environment, the research found teachers often spend hundreds of dollars a year out of their own pockets for supplies and are burning out on an increased workload with less help. On this page you'll find: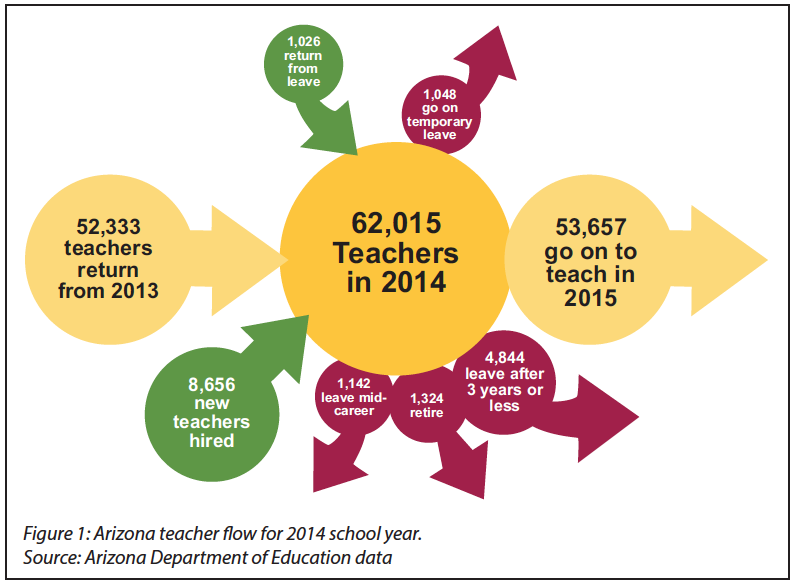 Overview: Declining Pay = Teacher Exodus
Arizona has cut public school funding by $4.56 billion dollars since 2009, according to the Arizona School Boards Association. Funding per student, adjusted for inflation, fell from $8,580 in 2008 to $7,229 in 2017—a 15.7 percent drop.
Arizona teacher salaries fell roughly 10 percent between 2001 and 2017, according to a comprehensive study last year by the Arizona State University Morrison Institute for Public Policy, and the state is regularly ranked near the bottom for teacher salaries nationwide. Meanwhile, the majority of Arizona school districts deal with teacher shortages, while cuts in support staff have left teachers forced to take on more work and deal with larger class sizes.
As a result, 42 percent of Arizona teachers hired in 2013 were no longer teaching in the state by 2016, the ASU study found. "The large number of low-experience teachers help explain the state's low overall education expense, since so many teacher are near the bottom of the pay scale," the report concluded.
The #RedForEd leadership criticizes Gov. Doug Ducey's pay-hike proposal as being limited to teachers only and for not addressing school funding in general. So teachers across the state are voting this week on whether to support a possible walkout should the legislature not meet their demands.
"The problem is real," the ASU report warns. "Arizona's school systems are not attracting new teachers in the numbers needed, and they're in danger of losing their veteran teachers to retirement and burnout."
Add the stakes are high. "Arizona's ability to resolve the issue of teacher attraction and retention will determine the state's economic future," the ASU report concluded.
---
Who is Leading the #RedForEd Movement?
First, the movement has been led primarily by Arizona Educators United, a grassroots group of teachers, education support professionals and administrators.
"We're Arizona 'Educators' United, because 'educators' means so much more than just the teachers—it's everyone who impacts a student's life, from counselors, to pre-K teachers, to speech pathologists, paraprofessionals, and more," said Selena Mattern, a teacher who is leading the #RedForEd movement at Boulder Creek High School. "These are all educators, many with masters degrees, who are not involved or mentioned in the recent Ducey proposal. They are vital to the education of our children and students."
Secondly, the Arizona Education Association, has expressed its full support for the #RedForEd movement and taken a leading role in organizing and communicating. Formed in 1892, the AEA is the largest professional association for public school employees in state, with 20,000 members. AEA defines itself as a professional association and a labor union, "advocating on behalf of students, staff, and teachers in Arizona."
---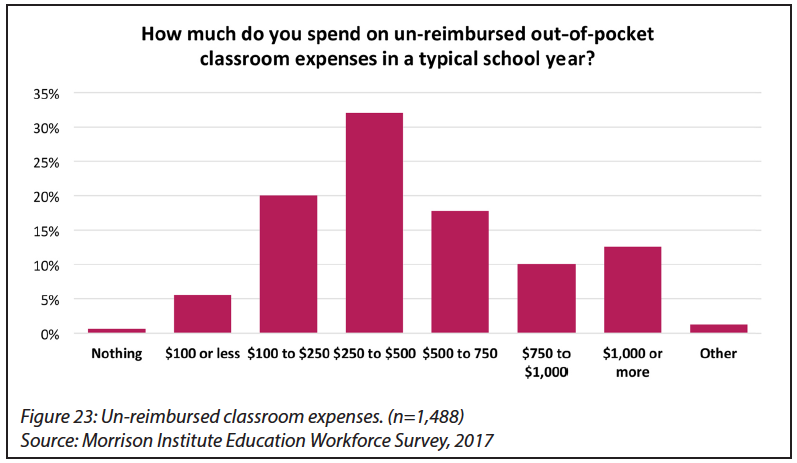 What are the #RedForEd Demands?
Arizona Educators United states the demands on its website:
20% raise for all teaching and certified staff
2018

–

2019 school year

Built into the salary schedule at the district level, mandated by the state
Competitive wages for all classified staff
Based on inflation rate of previous year

Aim to pay job families comparatively/competitively with similar jobs in the local market

Honor years of experience in school district employment
Return school funding to 2008 levels
Decrease class sizes to 23:1

Provide 21st century resources and curriculum materials
No new tax cuts until AZ per-pupil spending reaches national average
Reapportionment of tax revenue should not hurt programs that help the low socioeconomic status families and individuals

Tax revenue should be generated from sources that are generated within the state economy
Yearly raises until AZ teacher salary reaches the national average
Steps based on years of experience with no compression or reduction of years that qualify

Lanes based on amount of education including work beyond an earned degree
---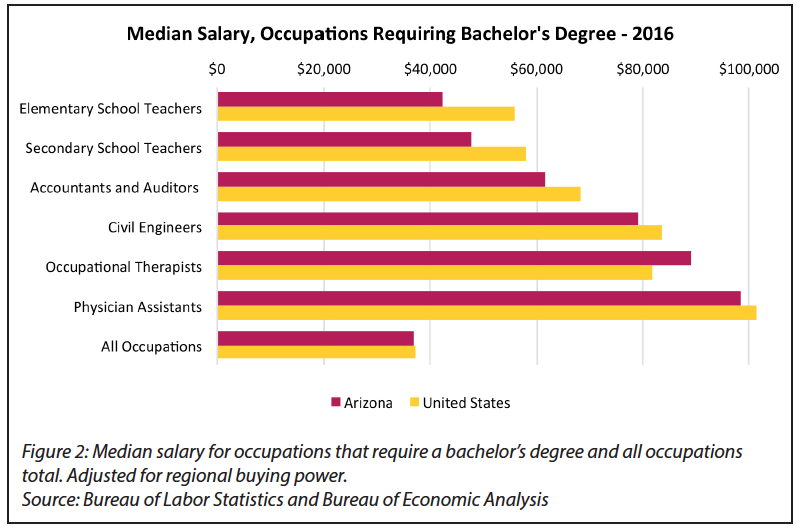 How Much Do Arizona Teachers Make?
Median pay fell 11 percent between 2001 and 2016 for elementary school teachers statewide and 10 percent for high school teachers, according to the ASU study.
In the 2016–2017 school year, average teacher salary was $45,022 in the Deer Valley Unified School District, as compared to the state teacher-pay average of $48,372, said DVUSD spokesperson Monica Allread, citing information from the Arizona Auditor General.
But many teachers have questioned those figures. In social media, several have posted their own salaries, in many cases well below $40,000 after several years experience.
Arizona ranked 43rd in average teacher pay in 2016 at $47,218, well below the national average that year of $58,353, according to the National Education Association. "When adjusted for cost-of-living, Arizona elementary school teacher pay is the lowest in the nation, the ASU report states. "High school teacher pay ranks 49th of the 50 states."
The ASU research shows that the gap is so significant, and the workload so much more now, that teachers are leaving Arizona for higher salaries elsewhere, or simply leaving the profession. Meanwhile, three-quarters of state school administrators said they had a teacher shortage, according to the study, which drew from Arizona Department of Education data, focus groups, interviews with administrators, and a survey of 1,600 educators.
And teachers are working harder, leading to more burnout, the ASU study concluded.
"Demands for accountability, coupled with budget cuts that have increased class sizes while curtailing support personnel, have markedly increased the workload for Arizona's teachers," the report states. "Teachers say they expect to work hard, but dislike being asked to work harder for less pay."
Plus, the data can be distorted by common realities, Mattern said. Class-size data includes, for example, special education classes that might have just a handful of students, she said. And salary data includes some professionals "who make well over the average, but don't teach a class," she said. "This is not our reality: Many of us have 35-37 students in a class, and make under $40,000 a year."
---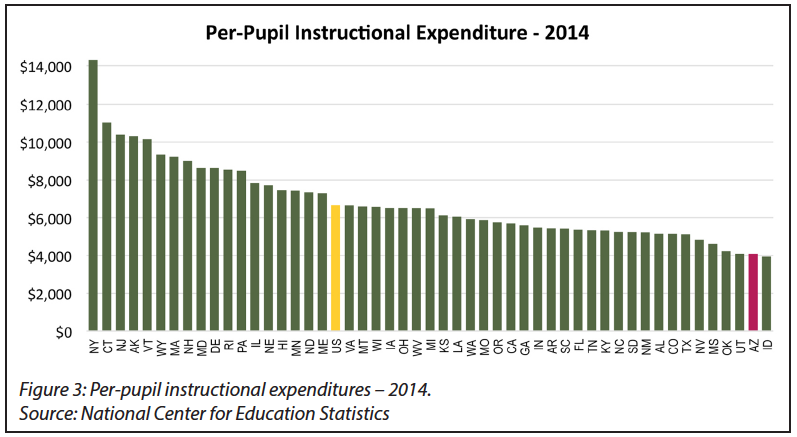 What Did Gov. Ducey Propose?
Bending to #RedForEd demands, Gov. Ducey proposed a 9 percent increase to start this fall and additional 5 percent increases in each of the next two years. Combined with a one-time 1 percent increase teachers received this year, Ducey billed it as a 20 percent hike by 2020.
The proposal, however, is just a rough outline at this stage, and it banks on cuts in other programs and growth in state revenue to cover a significant portion of the costs.
The state legislature is expected to debate the proposal this week and would have to approve any final deal. 
Update 4/27: Ducey issued a statement promising additional funds for district superintendents to use at their discretion for paying support staff and/or supplies and infrastructure.
---
What is #RedForEd's Response to the Governor's Proposal?
The leadership called the original proposal inadequate. Among criticisms of the governor's plan:
The definition of teachers does not include non-teaching certified positions and other support staff, and it doesn't address funding for school-building improvements, outdated equipment or basic supplies.
"Sadly the plan does not meet the needs of our students," Arizona Education Association President Joe Thomas said April 13, in a video posted to Facebook. "It falls far short. It lacks a lot of details. We have no idea where a significant amount of the money comes from."
UPDATE 4/19: The Arizona PTA said when it first looked at the governor's proposal, it was in line with PTA priorities. But yesterday, Beth Simek, president of the Arizona PTA, said that after closer examination of how the plan would be funded, "we can no longer support the governor's proposal." She urged the legislature to find a long-term, sustainable funding source the increased education funding.
UPDATE 4/27: #RedForEd leaders dismissed Gov. Ducey's follow-up statement/proposal, which provided very little detail, as being too vague. "We have no bill," they said. "We have no deal. The devil is in the details."
UPDATE 5/2: In telling teachers to return to the classroom May 3 if legislators pass the budget by then, leaders of the #RedForEd movement said they did not achieve their ultimate goals, but that it was time to accept what they felt was possible at this time.
The Arizona Education Association, one of two primary groups leading #RedForEd, encouraged teachers and other supporters to vote this fall for legislators who would support their effort to improve education funding, an effort they made clear is not over:
"This budget falls far short of the $1 billion that was taken from Arizona students, but it's time to go back to the classroom and regroup to get our students the funding and schools they deserve," the AEA said in a tweet Wednesday, May 2.
---
What Did Educators Initially Vote On?
Educators across the state voted at their schools, through Thursday evening, April 19. The ballot was a simple yes/no choice: Yes, I will participate in a walkout; or No, I won't. But what would actually happen after the vote depends on other factors, according to a statement from the Arizona Educators United, prior to the vote, obtained by North Phoenix News:
"A vote to walk out means you are supporting our ability to strategically make the best decisions that are effective to achieve our goals around the demands," the statement read. "A strong vote for a walkout provides choices to leverage the legislature. If there is a vote to support a walkout, the date and the length of the walkout is dependent upon a number of factors, including what the legislature does or doesn't do, the impact of events already scheduled on school calendars, and the needs of our students. If it is one day or multiple days will be determined and largely dictated by what set of actions the legislature takes."
"In other words, a 'Yes' does not necessarily mean a walkout this school year," Mattern said. "It could happen later in the year, like October. A 'Yes' means we trust the leadership to plan when it makes the most impact."
UPDATE 4/19: After the vote, organizers said the plan was to walk out Thursday, April 26, unless the legislature meets the #RedForEd demands [Story].
---
Will There Be Makeup Days?
DVUSD will have missed four school days if school restarts Thursday, May 3 (Friday, April 27, was a planned school holiday). According to state laws and current policies, those days must be made up, DVUSD said in a statement.
Plans may include adding multiple Saturdays to the calendar, as well as May 25—the Friday before Memorial Day Weekend and the day after the planned end of the semester, Superintendent Curtis Finch told teachers in an email. 
"Once schools reopen, we will complete a revised school year calendar. As soon as it is approved, the revised calendar will be emailed to parents and posted on the website. We will continue to appeal to the state to avoid holding make-up days, however, the state has not indicated any willingness to waive this law," Finch said in a letter to parents May 1.
Graduation dates and times will remain as scheduled, the district said. "After the graduation ceremony, seniors will not need to attend any additional class time."
Three area charter schools—Anthem Prep, Caurus Academy and Ridgeline Academy—remained open during the walkouts.
---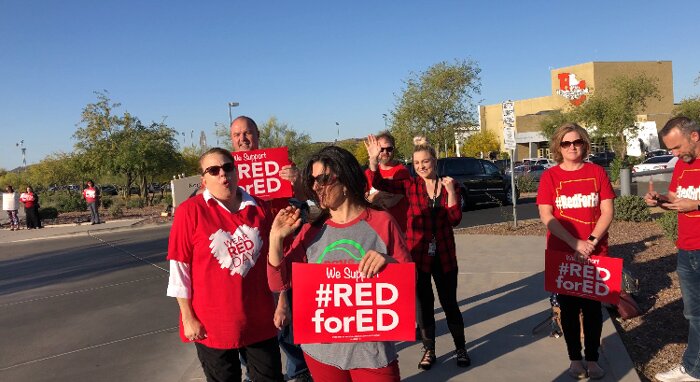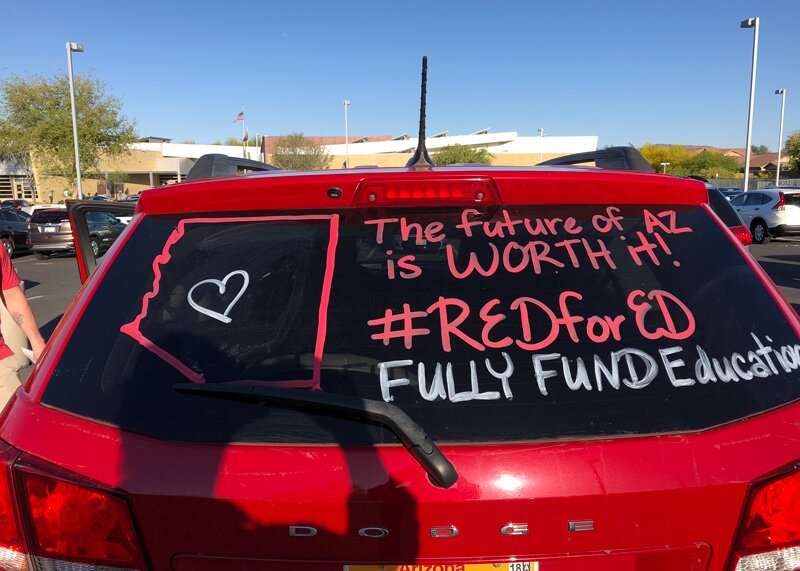 ---
Correction: This article was edited to more accurately reflect Gov. Doug Ducey's proposal to involve a 9 percent increase this year, not 10 percent.
Updates: This article has been updated several times to include the latest information. Additional updates will be made as the situation evolves.
---
---
Pre-Paid Solar System = Low APS Bills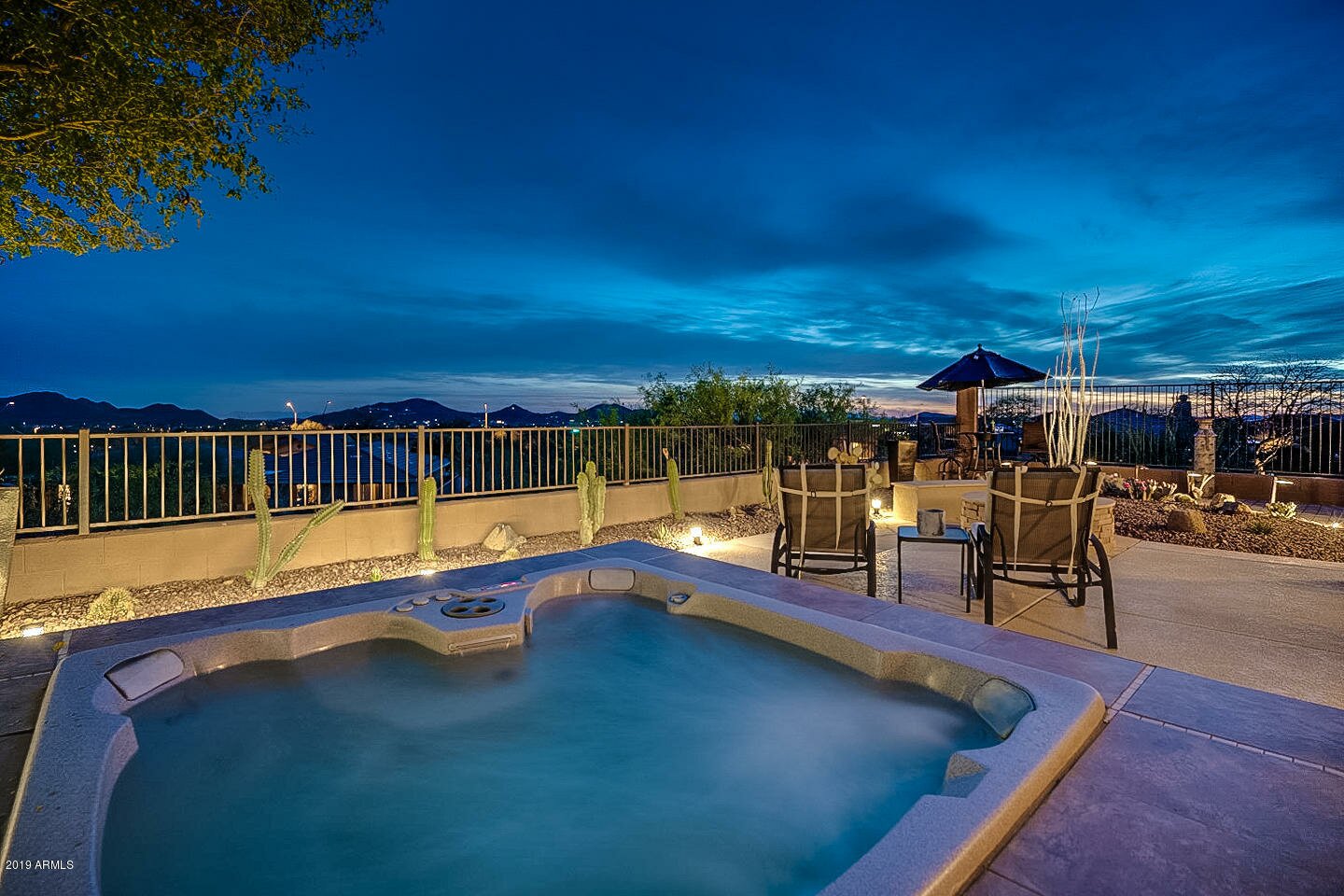 ADVERTISEMENT
A truly special property! Nestled in a tiny, private cul de sac, this contemporary renovated Bonavista has stunning mountain + city light views from the front and back of the home. 
3 BEDS + DEN | 2 BATHS | 3-CAR GARAGE | 2,039 SQFT | $419,000
41401 N MAIDSTONE Ct., Anthem Country Club
Call or CLICK TO LEARN MORE