Sonoran Gate: 255 Homes Planned for the Middle of Nowhere
For 15 years, In&Out Magazine has been the definitive source of "Everything that's going on" in and out of the community. We thank you, our readers, as well as the businesses that support the magazine through advertising, for that opportunity. But with little going on, and many businesses suspending or canceling their ads during the Covid-19 crisis, we are suspending publication of the magazine and web sites for the month of May. 
---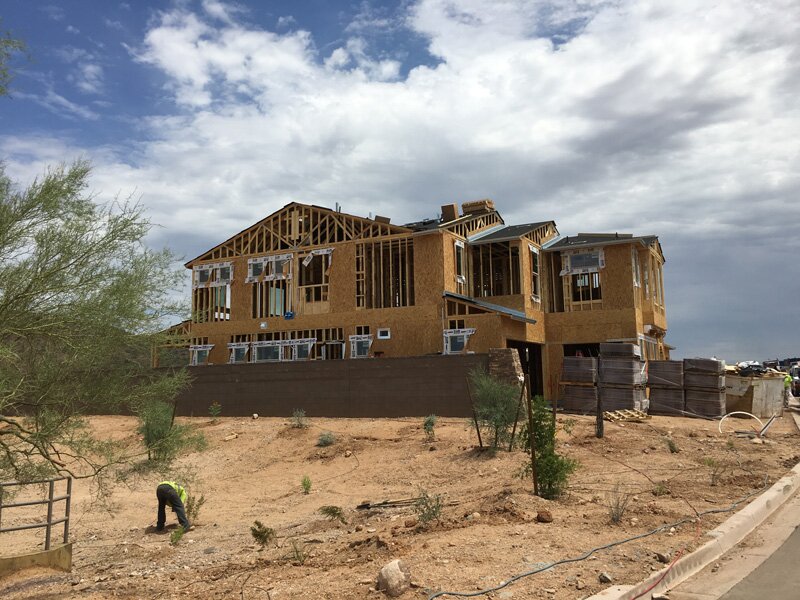 UPDATE Oct. 25, 2017 — Taylor Morrison will unveil seven model homes at Sonoran Gate when it opens to the public Saturday, Oct. 28 [FULL STORY]. The article below remains as originally written.
---
On an isolated chunk of land nestled between the north and south sections of Sonoran Desert Preserve in North Phoenix, a new subdivision is taking shape. The "coming soon" sign is up and site work is underway on Taylor Morrison's newest neighborhood, Sonoran Gate.
The Scottsdale-based builder will be the first to construct homes east of Sonoran Foothills, in the proverbial middle of nowhere. But the 80-acre site is actually surrounded by developable State Trust Land that in turn abuts the untouchable beauty of the preserve.
The Taylor Morrison parcel is the only privately held piece near the preserve in the area, said City of Phoenix planner Tricia Gomes. The surrounding land owned by the State Land Department lies within the city's boundaries, Gomes explained. "It has the potential to be developed in the future," she told In&Out.
Records obtained from the Land Trust Department show the land was initially sold to a private party at auction in March 1951, before it was sold to Taylor Morrison.  None of the adjacent parcels have entered the auction process with the State Land Trust Department.
The parcel was already zoned residential prior to a change in 2013 from large-lot-only zoning to allow denser, suburban-style, single-family lots. The site plan approved by the city shows 255 single-family lots.
The development is close to 11 trails in the northern portion of the preserve and 10 in the southern portion.
Representatives from Taylor Morrison have, so far, been tight-lipped on community amenities, floor plans and square footage.
---