Miss the Supermoon? Two More Chances on the Horizon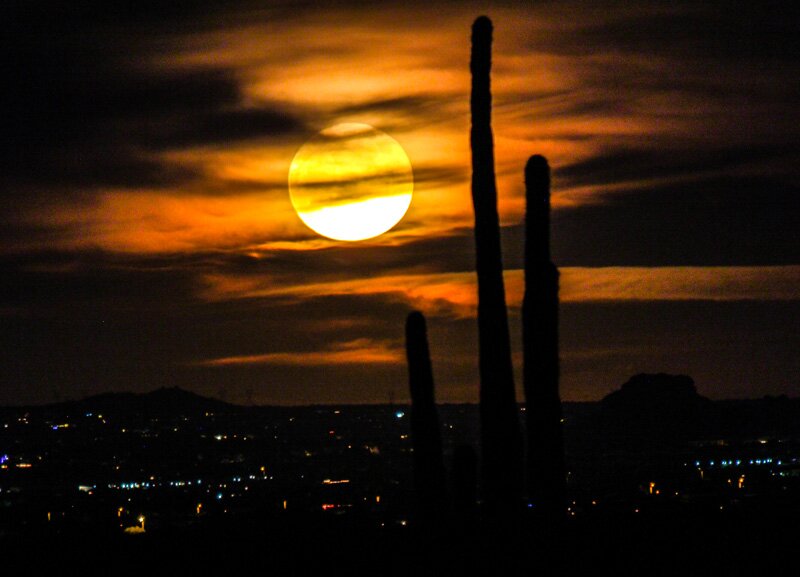 If you missed the Dec. 3 supermoon, you can at least enjoy this photo by 13-year-old Anthem resident Stefanie Goldstein. And don't despair: You'll have two more chances soon, when in a relatively rare occurrence there will be two full moons in the same month—Jan. 1 and Jan. 31—and even rarer, both will be supermoons. As a bonus, the Jan. 31 supermoon will also involve a total lunar eclipse, visible from Arizona. Wow!
So what's a supermoon, anyway? The explanation is mundane compared to the flashy term. Supermoons occur because the moon's orbit around Earth isn't a perfect circle, and when the moon is closest to us, it can appear 14 percent larger than when it's at the farthest point in its orbit (see example below).
When two full moons occur in the same month, the second one is called a blue moon. So we could call the Jan. 31 event a totally eclipsed blue supermoon. Whew!
(An aside: The moon is almost never blue. But a few times in history — due to a volcanic eruption or tremendous dust storm — the moon has taken on a blue hue. Hence the phrase, once in a blue moon, which is about how often there are two full moons in one month.)
Later this month, North Phoenix News will provide additional details on the Jan. 1 supermoon. And in early January, we'll explain everything you need know to enjoy the eclipse.
If you take photos of either event (or any wonderful thing in nature) and would like to share, post them to the NoPhoNews Facebook page or email them to . Meanwhile, sign up for the North Phoenix Newsletter so you never miss big events like these.