Water Problem Called 'Dire' in New River & Desert Hills
UPDATES: The situation faced by rural residents has changed since the publication of this article. Click here for the latest articles on this topic. The article below remains as originally published.
With well levels dropping and their supply of trucked-in water being cut off at the end of this year, residents in New River and Desert Hills face short- and long-term water problems that have no easy solutions.
About 150 rural homeowners attended a sometimes contentious community meeting on Sept. 19 to better understand their plight and hear about potential solutions.
An analysis earlier this month by In&Out Magazine and North Phoenix News found several wells in the region have seen marked declines going back two decades or more, with some residents saying their wells have gone dry. Meanwhile, the City of Phoenix announced earlier this year that as of Dec. 31 it will no longer allow water to be transported from its hydrants to locations outside the city.
At least 1,000 to 1,500 homes in New River and Desert Hills rely on trucked-in water, said Alan Muller, co-president of the New River/Desert Hills Community Association, which organized the meeting. The number may be higher, Muller said.
"Come Dec. 31, 2017, your water situation is going to be dire," said John Hornewer, owner of Rio Verde Potable Water Hauling. "Your water is going to be cut off."
What Now?
Hornewer complained that the City of Phoenix isn't willing to negotiate its planned cutoff. "They went to war with you," he told meeting attendees. "We need to have a plan of attack" to convince the city to extend the deadline, he said.
But Phoenix won't relent, said Ed Taylor, the other co-president of the community association. The city's code simply does not allow hydrants to be sources of potable water. "They can't change the code," Taylor said. "They're not going to change the code."
Taylor, Muller and others met with City Councilwoman Thelda Williams to see if Phoenix might extend the water-hauling shutoff date. "No" was all she said, Muller recounted.
---
Stay Informed with the North Phoenix Newsletter or the Anthem Newsletter
---
Meanwhile, water haulers like Hornewer have been seeking other sources of water, including Scottsdale and Peoria. So far, there's no solution in place. "We cannot guarantee that we'll be able to supply you with water from the city of Scottsdale or the city of Peoria," Hornewer said.
And if a solution is found, and the haul is farther, the water will cost more and, unless more trucks and drivers are put to the task, there will be fewer deliveries.
Brad Phelps, owner of Crystal Creek Water, said he hauls 50 to 60 truckloads of water a day into the area during summer, running two shifts from 6 a.m. until 10 p.m. If the trip becomes an hour longer, "we won't be able to cover everybody." Phelps pleaded with residents to "somehow get together and come up with a strategy." Phelps and Hornewer pledged their own help, but said the hundreds of neighbors—not just the 150 who showed up—need to be involved.
"What should we do?" one resident asked. "I don't know what to do. I want to do something."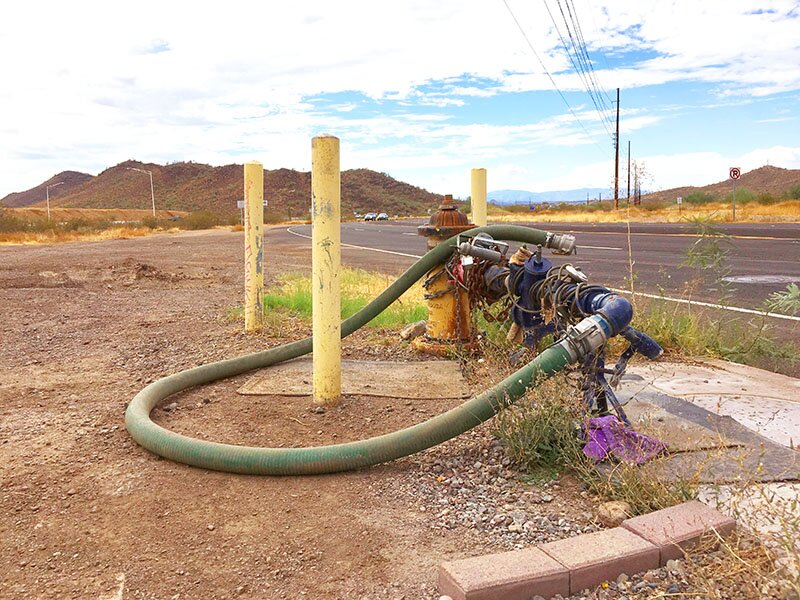 Long-term options
Doug Dunham, legislative liaison & ombudsman with Arizona Department of Water Resources, provided meeting attendees three potential long-term solutions.
Residents could find a group or individual interested in forming a for-profit utility company that could then negotiate long-term water-hauling rights from a municipality, tribal group or other water company. Such a utility would be regulated by the Arizona Corporation Commission, and the process of setting one up could take a year or more, Dunham said.

A similar, but perhaps less onerous setup, would be for residents to band together and create a nonprofit water co-op with the same goal, he said. It would still require approval and oversight by the Arizona Corporation Commission.

A third option would involve seeking approval from the county board of supervisors to create a community facilities district, Dunham explained.
Each of these options is "extremely confusing" and not without costs, Muller said after the meeting, and he wondered whether residents of the geographically dispersed region will be able to unite to do the work to create such an organization.
Water will still need to come from a reliable source, however. EPCOR, which provides water to Anthem residents from the Central Arizona Project via an agreement with Ak-Chin Indian Community, has been approached about the possibility, but it's not yet clear if the utility would have the authority or the desire to divert water outside its current service area, Muller said.
Muller agreed to help organize another community meeting to further explore options.
Building Continues
Meanwhile, no agency has authority to force a developer to guarantee water to a new home, if the development involves no more than five lots and other codes are followed, Dunham explained. That means anyone with an acre of land in New River or Desert Hills can drill a well and install a 35-gallon-per-minute pump without approval (though the pump must be registered).
In several areas of the state, wells are going dry while developers continue to cluster wells that exacerbate the situation "and lot-splitting continues unabated," Dunham said. His agency has tried to convince the State Legislature to change laws to deal with the dwindling water, but powerful lobbyists don't want to see the change. "Real Estate is a powerful market driver in the state," he said.
Meanwhile, more residents who rely on wells are finding them dry, and must then turn to water haulers. The shallow, disjointed aquifers in the region remain sensitive to over-pumping and drought, Dunham said, and while the water levels in wells sometimes rebound temporarily in a wet year, "overall the general trend is downward."
Residents wishing to voice opinions and concerns will find contact information for area politicians and officials posted on the community association's website.
Previous Stories on This Problem