I am a slave to my Apple Watch. More specifically, I'm a slave to the Activity app, which screams at me throughout the day, coaxing me to take 10,000 steps, burn 710 calories, do 30 minutes of exercise, and achieve 12 "stand hours." I don't even know what "stand hours" are, but my watch makes me do them by reminding me that "it's time to stand."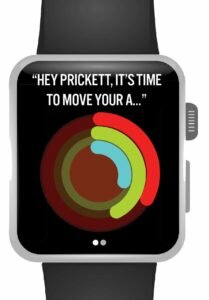 Three-quarters of Americans don't get enough exercise, according to the U.S. Centers for Disease Control and Prevention. That means for every gym rat there's at least three sofa sloths, and I'll bet those numbers go up with age. My solution has become a $300 micro-nag that I strap to my wrist. I'm not saying I'm proud, but that's a fact.
In order to make sure I get the minimum approval rating—in the form a "Congratulations Prickett, you've closed all your rings!" message—I've been known to jog in place in the shower, do laps around the bedroom right before lights out, and perform jumping jacks while binge-watching Netflix.
All for the approval of that wireless witch. And they say robots haven't taken over.
What drives me even crazier is that different activities, though similar, count differently.
A 30-minute walking of the dogs will usually count as 22 minutes of "exercise" and around 4,000 steps.

Yet 30 minutes on the treadmill (at a swift pace and an incline) only tallies 10 minutes of exercise and 2,500 steps.

A half hour of mowing the lawn will burn around 250 calories, the app says, but the same amount of time pumping iron at the the gym only registers around 75.
Hmmm… chores count as more exercise than working out. I wonder if my wife has anything to do with this?
The good news is that I'm staying active. I may be weak of mind, but I'm still relatively strong of muscle. I heard an old saying years ago, from either a Geritol commercial or Helen Hayes: "If you rest, you rust." So what if the robots are taking over. At least I'll be able to put up a fight.
---
Get Chris in your inbox. Subscribe to the North Phoenix Newsletter or the Anthem Newsletter
---