Anthem & EPCOR Race to Solve Rural Water Crisis
For 15 years, In&Out Magazine has been the definitive source of "Everything that's going on" in and out of the community. We thank you, our readers, as well as the businesses that support the magazine through advertising, for that opportunity. But with little going on, and many businesses suspending or canceling their ads during the Covid-19 crisis, we are suspending publication of the magazine and web sites for the month of May.
---
UPDATES: The situation faced by rural residents has changed since the publication of this article. Click here for the latest articles on this topic. The article below remains as originally published.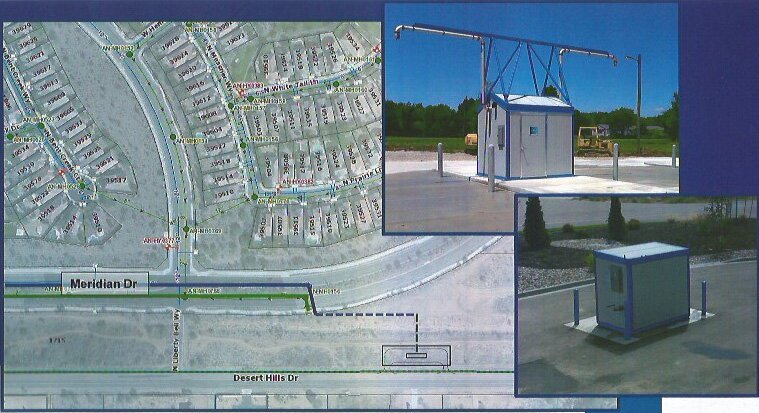 On the verge of desperation, residents of New River and Desert Hills got tentative good news last night when Anthem Community Council voted in a special meeting to negotiate a deal with EPCOR to supply trucked water to hundreds of homes that could otherwise go dry or face skyrocketing costs Dec. 31, when the City of Phoenix shuts them off.
"I'm on a fixed income," said Janet Curry, a 10-year New River resident whose well has gone dry, forcing her to rely on trucked water. "I can't afford a big increase."
Curry, one of about two dozen affected residents at the meeting, pleaded with Anthem Community Council board members: "I'm not an Anthem resident. But I shop in Anthem. I eat in Anthem restaurants… I'm just begging you please, do something to help us. We have no other recourse."
The deal is far from done, with a host of procedural and physical challenges, and time is short.
As many as 1,500 homes in New River and Desert Hills, perhaps more, don't have working wells. They get water via haulers who fill at City of Phoenix hydrants. But City code doesn't allow hydrants as sources of potable water, and the City notified haulers earlier this year that it would shut off the supply at year's end. Water haulers say the price of the precious liquid could double or triple if they have to bring it from faraway sources, such as Scottsdale, and they wouldn't be able to keep up with demand given longer delivery times.
At the suggestion of Maricopa County Supervisor Bill Gates and members of the Arizona Corporation Commission, EPCOR approached Anthem with a proposal to buy an acre of land on which the utility would build a water-hauling station. The plot would be an as-yet undetermined acre within an undeveloped 8 acres of Anthem property on the far east side of town, sandwiched between Meridian Drive and Desert Hills Drive (the acreage is also one of two locations under consideration for a dog park).
***
Deal Details
The water woes began to bubble up after North Phoenix News and In&Out Magazine first reported, in early August, the impending shutoff of Phoenix water, followed by an article in early September explaining how ongoing development was sapping an increasingly depleted local aquifer.
Residents met Sept. 19 and began a grassroots campaign to lobby government officials to address the problem and, in particular, to encourage Phoenix to reconsider its deadline. The city has not budged, citing city code as well as its obligation to serve its own residents, not those outside the city.
Troy Day, EPCOR vice president of operations, outlined the proposal at last night's meeting.
The filling station would tap into an existing 18-inch water line under Meridian Drive. Access for haulers would be via Desert Hills Drive, so truck traffic "wouldn't impact Anthem residents," he said. The property is near Fire Station 145 in Desert Hills.
The water would be allocated from a flow that is otherwise recharged into the ground on the west side of Anthem, Day explained, so it would have no impact on Anthem's primary water supply, which for east-side residents comes from the Central Arizona Project via an agreement with Ak-Chin Indian Community. (Anthem's west side is in the City of Phoenix and receives city water.)
EPCOR's Anthem treatment plant puts 300 acre-feet of water into the ground each year, Day said. He estimates about 33 acre-feet of that water would instead go to New River and Desert Hills residents, if the proposal is realized. (An acre-foot is roughly 326,000 gallons, or enough water to cover a football field about a foot deep.)
"This will not impact rates to Anthem or any of our other customers," Day said.
Points to Negotiate
Anthem's board directed staff to bring a negotiated proposal back for a vote at its Oct. 25 meeting. The board, as well as many of the rural residents, were in general agreement that the deal should consider serving existing residences only, not future homes.
Why? Because New River and Desert Hills residents are frustrated that despite a declining water table that's causing wells to dry up, the county continues to issue building permits to developers who drill wells that further suck the water table down, or in some cases, sell homes that have no source of water, forcing more to be trucked in.
Ron Bentley, a 35-year New River resident, said Anthem could "send a message to the county on new construction permits" by extending a helping hand to existing homes only and making clear that new homes would be forced to pay higher prices for water delivery.
Other deal points requested by Anthem's board members:
Aim for a lease agreement, not a sale of the land.

Find the most suitable 1-acre plot (EPCOR prefers one that is close to its water pipe under Meridian).

Seek a plot that won't necessitate moving any section of the

Maricopa Trail

, a county path that runs through the parcel.

Determine reasonable operating hours (EPCOR suggested normal business hours).

Ensure a block wall that protects against visual impact, noise and dust.

Ensure the water is not delivered to other communities beyond New River and Desert Hills.

Notify those living near the proposed project, who may be impacted, and seek their input prior to any vote.
Corporation Commission Onboard
EPCOR must receive approval from the Arizona Corporation Commission for the pricing. In an Oct. 4 letter to the commission, EPCOR proposed a rate of $9.95 per thousand gallons. Haulers could charge whatever the market will bear to deliver the water, as they do now.
"These residents are left with few viable options and the present status is dire," Jason Gellman of EPCOR said in the letter. Commission rules allow for a utility "to provide emergency service to an area contiguous to its service territory," he said, adding that the vacant parcel is "just outside of and contiguous to" the utility's territory.
Corporation Commission member Andy Tobin followed up with a letter to residents and business owners in New River and Desert Hills.
"There are no legal requirements for [EPCOR] to meet through the Corporation Commission and the company may begin infrastructure upgrades within its service area at any time," Tobin wrote, adding that the commission would only need to approve the rates.
"We understand you have a December 31 deadline and will work swiftly to ensure residents and business owners have time to consider and determine the best water service options available," Tobin said, adding that he expects to provide an update "within the next two weeks."
Time is Short
Anthem will need Pulte's approval to sell or lease the property. And board members stressed that while they want to help their neighbors, they have to ensure the deal makes sense for Anthem, too, and that it will still make sense years from now.
"We want to help," said Anthem Community Council President Roger Willis.
EPCOR sees the hauling station as a long-term setup. Meanwhile, residents of New River and Desert Hills have discussed eventually forming their own water utility, but for the most vocal of them, the focus has been on solving the immediate problem first.
Keith Turner, a rural resident without a working well, said he pays about $4,000 a year for delivered water now. "If it doubles, I can afford that… I cannot afford triple." Turner also worries about property values plummeting if no solution is found, and at the meeting he wondered aloud whether negative impacts might spill over to surrounding communities. "What's going to happen to the property values in Anthem?" he questioned.
Assuming all the permits and approvals can be managed quickly, an EPCOR engineer said it would take two- to-three months to build the water-hauling station. And if the utility doesn't secure the Anthem land? It would look for a plot elsewhere, "but there aren't any great opportunities," Day said. Discuss This Article on Facebook >>>
Correction: This article was edited to note that the water EPCOR would serve to all customers under the proposal would be surface water from the Central Arizona Project, not reclaimed water.
Previous Articles About the Rural Water Woes