The Hip Thing to Do: Guess What Chris Just Got?
For 15 years, In&Out Magazine has been the definitive source of "Everything that's going on" in and out of the community. We thank you, our readers, as well as the businesses that support the magazine through advertising, for that opportunity. But with little going on, and many businesses suspending or canceling their ads during the Covid-19 crisis, we are suspending publication of the magazine and web sites for the month of May. 
---

Got me a new hip last week. Don't know if that makes me a hippie or a hipster, since HIPAA does not allow for disclosure of these things. Whatever, I'm always amazed by the advances in medicine, though sometimes progress takes time.
The first (failed) attempt at a hip replacement was way back in 1891. Ivory was the material of choice. 
Plod forward to 1925, when an American surgeon thought glass was a good idea. This hypothesis was shattered, as was the prosthesis. 
In 1938 they finally got smart and went with a stainless-steel joint bolted through the bone. All went well until the bolts came loose.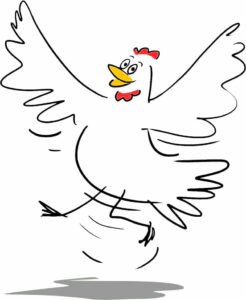 They finally got it right-er by mid-century, and improvements continue to this day. My doctor was assisted by a robot. My new joint is made from a witches' brew of hard-to-pronounce alloys, along with polyethylene (probably recycled shopping bags), and is designed to graft to the bone.
Some 400,000 hip replacements are performed in the United States each year. It's pretty much like Jiffy Lube: in and out, and walking, the same day! They even had me go up and down the stairs at the hospital before I left. Ten days post-surgery and I'm walking about 3,000 steps a day. I use a cane, but it's mostly there for moral support. Pain was definitely manageable with acetaminophen after a couple days. I've had worse pain from pulled muscles and a slew of unmentionable other incidents over the years.
I decided to take the plunge a bit early. I could've soldiered on with the original for another few years. My decision was a "quality of life" thing as well as a practical one. My next decade will likely be the best 10 years I have left, so why limp through it when I can skip like a spring chicken? 
A new hip is typically projected to last 10 to 15 years, but of the experts I've talked with, all are seeing newer parts lasting much longer. But hey, I'm not a doctor, I just play one online.