Hockey & Hotel: Huge Sports Arena Planned Near Sonoran Foothills
For 15 years, In&Out Magazine has been the definitive source of "Everything that's going on" in and out of the community. We thank you, our readers, as well as the businesses that support the magazine through advertising, for that opportunity. But with little going on, and many businesses suspending or canceling their ads during the Covid-19 crisis, we are suspending publication of the magazine and web sites for the month of May. 
---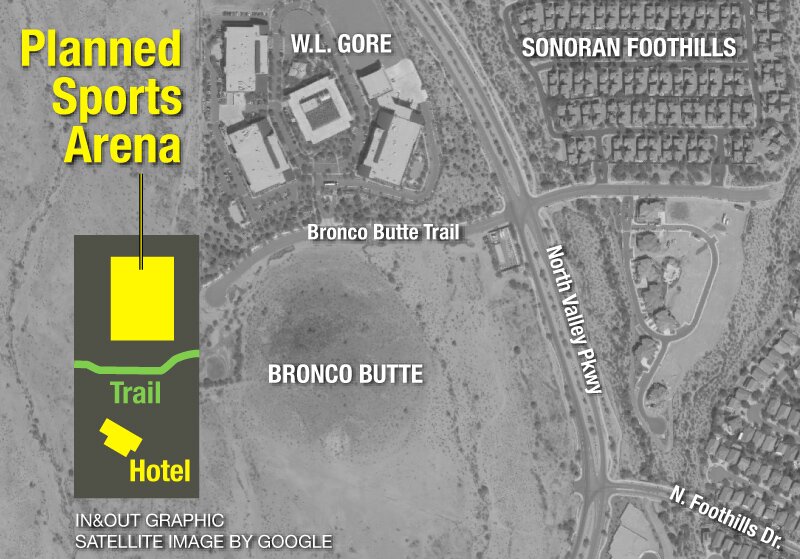 A proposed indoor sports facility featuring two ice rinks, five courts for basketball and volleyball, a restaurant and a hotel, could be among the first major entertainment centers developed in what's planned to be a 500-acre "urban core" between I-17 and North Valley Parkway.
The facility is envisioned for a 19-acre parcel midway between Dove Valley Road and Sonoran Desert Drive. The 174,000-square-foot sports arena, a project in the mind's eye of local entrepreneur Rob Eaton, could support practices or community leagues in hockey, figure skating and curling, as well as indoor volleyball, basketball, lacrosse and soccer.
There would be courtside seating, lockers, workout equipment, and a second-story restaurant for 250 spectators, said Adam Baugh, an attorney of Withey Morris who presented the proposal at a public meeting of the North Gateway Village Planning Committee May 10.
The hotel, with a pool, grocery items and potentially other retail, would be integral to the development, providing a place for visiting athletes and parents to stay.
"I learned how to skate and play hockey about five years ago in the adult recreational leagues," Eaton told North Phoenix News.  He saw a need for more indoor sport venues on in the area "for children, youth, and adults," he said, adding he's "hoping to provide a first-class facility for both participants and players by the fall of 2020."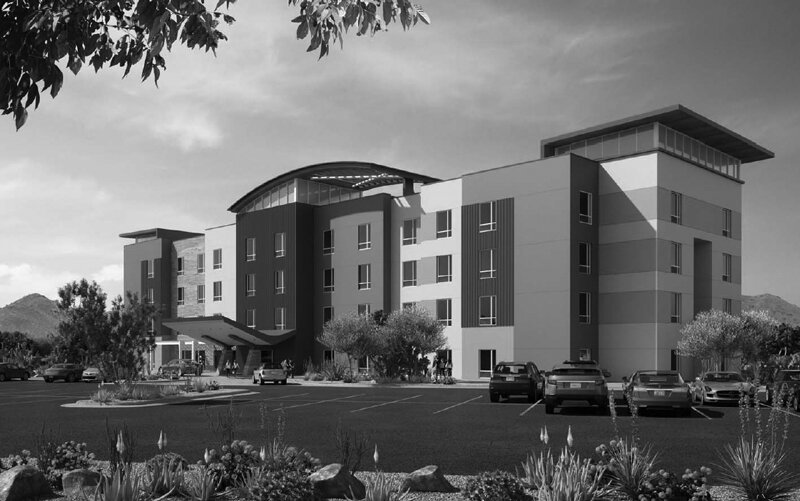 'This Place is Needed'
The five-member North Gateway committee, which reviews development proposals and adds stipulations prior to presentation to the Phoenix Planning Commission, views the project as a potential economic anchor that could draw much-desired restaurants and other businesses into what has long been planned as a high-density North Gateway Village Core [see map at bottom of this page].
Modeled after other village cores in Phoenix, the idea is to provide a central urban hub of commercial and retail services, and jobs, to support the surrounding residential area.
"This is a perfect location for an ice rink," said Sonoran Foothills resident Camie McCracken, one of more than 20 nearby residents who attended the meeting. "Imagine a hot summer day… It's close enough that your kid can ride their bike… get some exercise and be with their friends."  
McCracken also pointed out that the facility could be a boon to school or club-team hockey players in the area, many of whom trek daily to Scottsdale to practice and play. She also noted the economic value, with the combination of sports arena and hotel. "You've got families coming in and spending money locally," she said.
"This place is needed," said Paul Clark, who coaches area sports teams and knows Eaton, the owner. It'll be a "safe, secure" place for kids to hang out and play sports, Clark said at the meeting, held at the Goelet A. C. Beuf Community Center on Pinnacle Peak Road.
Preserving Trails & Views
The City's broad plans emphasize that the North Gateway Village Core should be a "cohesive, environmentally sensitive community" that also retains open space.
In keeping with that, cutting through the development would be a 20-foot-wide wide, partly shaded trail with benches. Called Paseo del Prado, this "pedestrian spine" is a city requirement intended to keep the Village Core walkable, and to preserve views of the adjacent hill called Bronco Butte and other mountains in the region.
Paseo Del Prado would ultimately be extended east-west through any other future developments, to traverse the core from Bronco Butte to Skunk Creek Wash near I-17.
The developer is pondering environmentally sensitive ideas such as recycling ice from the Zamboni to water landscaping, and planting a garden to supply fresh herbs and vegetables to the arena's restaurant.
Three people who live nearby expressed concerns about traffic, safety and the overall plans for a high-density core, one calling the project "out of step" with the reason people bought homes in Sonoran Foothills.
Board members stressed, however, that the North Gateway plans to create the urban core go back more than a decade. The area also falls within an earlier City of Phoenix planning document, dating back to the late 1990s, called the North Black Canyon Corridor. It calls for an employment center focused along the I-17 corridor, with surrounding residential. Importantly, said board member Michelle Ricart, the property "is zoned for this."
What's Next? Trader Joe's?
Board member Julie Read, who lives in Sonoran Foothills, pointed out that residents frequently pine for better restaurants, grocers and retail stores, from Postinos to Trader Joe's to Target. To lure them in, Read said, "We need something like this first."
The sports arena and hotel would both be around 56-feet tall, well below what zoning allows in the urban core. Eventually, buildings in the core, especially nearer I-17, could rise as high as 190 feet, planners said.
The facility would have just one entrance and exit, via Bronco Butte Trail. As the core develops, other streets will be built and the sports center would likely have other access points, according to Baugh, who represents the developer. And before then, the City of Phoenix would do traffic studies and install lights and widen existing streets as needed, board members said.
The board gave the project a unanimous thumbs up to allow planning to continue, with the following stipulations, all of which the developer has agreed to address:
Building colors shall be muted and in keeping with the desert environment, and windows will be minimally reflective.

The maximum building height shall be 150 feet (relevant in relation to potential future development on the site, or an adjacent 20-acre site to the west also owned by Eaton).

Grass may be installed only in retention basins, and any artificial turf must not be visible from public rights-of-way or parking lots.

Bronco Butte, and the riparian area on its west side called Bronco Butte Water Tank, shall be fully preserved.
— Karen Goveia contributed to this report.