What's Causing All These Wildfires?
On Wednesday, smoke visible from Anthem billowed skyward from a 10-acre brush fire near State Route 74 and New River Road. Perhaps you didn't hear about it. The fire barely got a mention in social media and didn't make the news. It was roughly the 33rd wildlands blaze in the area that Daisy Mountain Fire Department has responded to since April 1, in what the agency says has been the most active fire season locally in two decades.
"Since there hasn't been any lightening in the area recently, these local fires have the common element of being human-caused," said DMFD spokesperson Paul Schickel.
A wet winter created grass and brush that's now bone dry, setting up conditions ripe for a fire to start and spread rapidly, especially on a windy day.
But the specific cause for many of the fires — including the big 303 Fire along I-17 in North Phoenix last week, one in Black Canyon City last month suspected of being arson, and another in the New River Wash near Anthem back in April — remains unknown. [List below]
"Sometimes we can determine right away what happened," Tiffany Davila, a spokesperson for the Arizona Department of Forestry and Fire Management, said in a phone interview this week. The agency tracks the status of virtually all wildfires in the state, big or small. "Sometimes it takes a long time. Some go unsolved."
Among the typical triggers for fires close to roadways that DMFD has seen over the years: tossed cigarettes; hot bits of tires that separate; dragging trailer chains; even broken glass that magnifies the sun. "We've seen broken-down vehicles and accidents start fires, and occasionally it turns out to be kids playing with fire," Schickel said.
Away from roadways, shooting guns is one of the main causes of local wildfires, he said.
Sometimes a structure fire ignites a wildfire, Schickel said. "Probably the most unusual cause I've heard of, is a bird that was electrocuted while perched on power wires, and started a fire when it fell to the ground."

Fire Causes & Status
Here's what's known — and not known — about some of the more notable fires in the area this year (follow links for fire details, photos and videos):
This North Phoenix blaze scarred the landscape from the Loop 303 to Carefree Highway, right up to the western edge of I-17, which acted as a barrier. The hot and windy conditions spawned "fire whirls" that caused the fire to hop frighteningly across the desert. No cause has been determined, and the fire remains under investigation, the state forestry department's Davila told North Phoenix News.
Started: 6/22/17
Acres Burned: 1,676 (640 acres = 1 square mile)
Cause: Under investigation
---
Near Maggie Mine Road and the Bumble Bee exit off I-17, this fire forced the closure of southbound lanes on a Sunday evening and, for a time, threatened the 180-acre Bumble Bee Ranch tourist destination.
Started: 6/18/17
Acres Burned: 1,400
Cause: Under investigation
---
Starting near the flat-top mountain Table Mesa, this blaze was 4 miles southeast of Black Canyon City.
Started: 6/10/17
Acres Burned: 659
Cause: Unknown
---
Badger Fire
This brush fire north of the Sunset Point Rest Area, which forced an hours-long shutdown of I-17's northbound lanes, had an easy-to-identify cause.
Started: 6/1/17
Acres Burned: 160
Cause: Vehicle fire
---
Joe's Hill Fire
Starting in a junkyard in Black Canyon City, this fire spread into nearby brush and destroyed a half-dozen structures. Arson was suspected. DMFD Chief Mark Nichols called it a "suspicious fire" and the Yavapai County Sheriff offered a $500 reward for information. "Many leads have been exhausted," sheriff spokesperson Dwight D'Evelyn told North Phoenix News yesterday. But the case remains unsolved, and the sheriff is "still seeking public input," D'Evelyn said.
Started: 5/27/17
Acres Burned: 60
Cause: Under investigation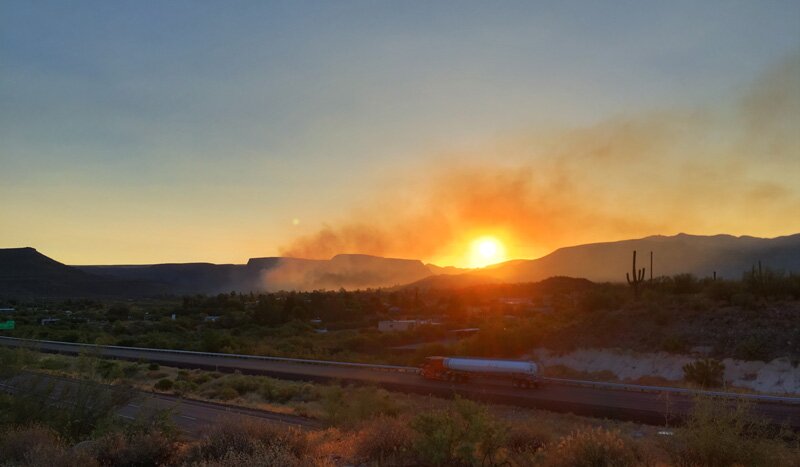 ---
This brush fire in the New River Wash was literally a stone's throw from some Parkside homes. "It wasn't a nature-caused fire," Daisy Mountain Fire Department Capt. Dave Wilson said the day of the fire. "There was speculation that there were some kids in the wash, but we don't know."
Started: 4/21/17
Acres Burned: 16
Cause: Under investigation
---
Statewide Stats
Through June 26 in Arizona there were 1,052 wildfires, large and small, compared to 1,022 by the same time last year — a 2.9 percent increase.  The acreage burned has been nearly identical: 160,645 this year vs. 159,368 last year.
On June 23, Gov. Doug Ducey declared a state of emergency to free up additional firefighting funds.
This week's Goodwin Fire, which scorched more than 20,000 acres in the mountains south of Prescott and west of Mayer, was closer to North Phoenix than other large fires, its smoke visible at times in the Valley. The fast-moving forest blaze forced evacuations in Mayer and several other smaller communities, and prompted an emergency declaration by the governor for Yavapai County. By last evening, the fire was 43 percent contained and its forward progress slowed or stopped.
Like so many others, the cause of the Goodwin Fire is, for now, unknown.